Medical Answering Service
Whether you have a big or small medical facility, partnering with a medical answering service is a big help for your staff. With this, they can focus their attention on where it's really needed—your patients.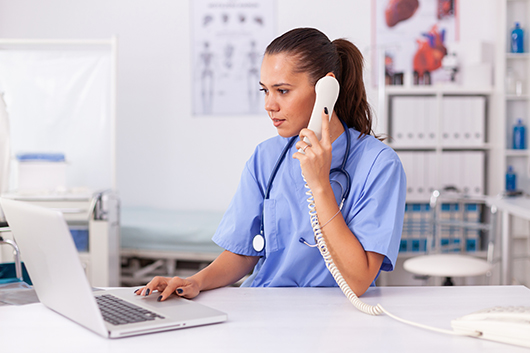 Benefits of Medical Answering Service

Complete Confidentiality
We ensure the safety and confidentiality of patient information that will be handled.

Tailored Solutions
We have medical answering services that are tailored to the requirements you need for managing patient inquiries.

Backlog Support
There can be an overwhelming number of calls and inquiries a day in any medical facility. Medical answering service eases your inbox.
Frequently Asked Questions
What does medical answering service do?
Medical answering services handle any type of patient calls with the help of our trained virtual assistants. You can provide scripts, guidelines, and regulations about your company and our VAs can practice the answers for the patient's queries.
What to look for in a medical answering service?
Find a reliable medical answering service that is established and known for the positive customer service experience. Also, one where they can assure you no breaches of patients' information will happen.
How much does medical answering service cost?
The cost of our service is determined by the scope of work. We encourage you to request for a quote to ensure alignment of your budget with the particular service you need.
Fill in Key Details to Request a Free Quote
Ready to outsource your tasks and grow your business? Send in your details and our team will get back to you as soon as possible to respond to your questions and concerns.