Customer Service Outsourcing
Effectively manage your customer service lines and shape customer behavior. Make every customer journey personalized for a better experience. Skyrocket your business while improving customer service operations. Let Outsource-Philippines help you establish connections.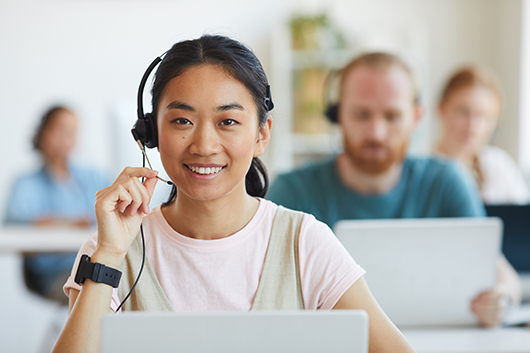 Benefits of Outsourcing your Customer Support
Flexible Support
Remote work is a common setting for plenty of companies. Get access to customer support on a bigger scale to stay focused on your key business operations.
Cost-effective
Reduce customer effort and unlock possibilities when you optimize business processes and outcomes. Build your company reputation through positive customer feedback.

Informative Experience
Say goodbye to unanswered questions from customers. Enable fast and direct customer-staff interaction to increase customer loyalty and brand recognition.
Frequently Asked Questions
When should I outsource customer service?
Outsourcing your customer service operations is critical because good customer service is the heart of every business. That said, knowing when to outsource this process should be well-thought out. It is best to ask yourself if you have reached the point of growth trajectory and you will be able to scale support teams. One of the signs that you need to outsource customer service operations is when you experience spikes in call volumes and high wait times.
Will I lose control of quality if I outsource?
Outsourcing your customer service operations will not lead to poor quality of service. In fact, outsourcing customer service operations will lead to better quality control and no more wait times. That said, you can ensure quality and achievement of key performance indicators without compromising customer satisfaction. When you outsource customer support, you can expect proper management and quality control processes in line with your business tone and level of expertise.
Can I outsource even though I'm a small or medium-sized business?
Business outsourcing services are not just for big companies with large budgets. Outsource services are accessible to businesses of all sizes. As a business owner, even if you're a small or medium company, outsourcing can help you scale your business.
Fill in Key Details to Request a Free Quote
Ready to outsource your tasks and grow your business? Send in your details and our team will get back to you as soon as possible to respond to your questions and concerns.