Outsource Live Chat Support to the Philippines
Do you want hassle-free dealings with your clients 24/7? Market your products and services to visitors and communicate with your existing and potential clients in real-time. With our live chat support services, every client inquiry and concern will be addressed immediately.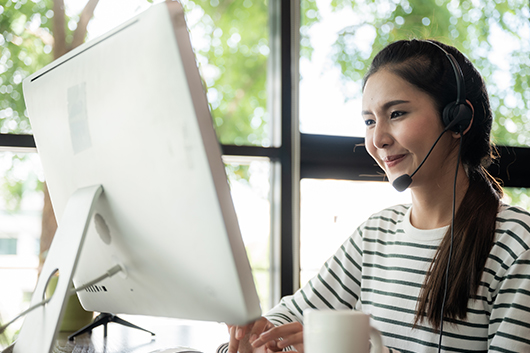 Benefits of Live Chat Support
Unlike other live chat service providers, our live chat support agents undergo in-depth training to equip them in handling every kind of scenario. Our goal is to bridge the gap with your clients, supply their urgent needs, answer their queries, and even schedule a meet. Hence, we don't just recruit anyone to join our team and handle your business on your behalf. With Outsource-Philippines, your business will grow.
No More Wait Time
In this digital age, live chat is an integral part of business because providing a platform to communicate with customers in real-time is an excellent way to connect with and support them. Maintain strong, long-term business connections with your clients as you respond to their inquiries right away.

Increase Customer Engagement
Businesses are striving to keep up with digital setups. That said, live chat serves as a superior communication channel. Offering real-time chat support enables quick addressing of multiple queries at once which saves time, labor, and money for your company.

24/7 Support
Showcase your commitment to delivering excellent customer experience by providing round-the-clock support and service. Make live chat and quality customer service the core to your business reputation.
Why Hire Our Live Chat Support Agents
Why should you hire a live chat service? Aside from keeping abreast of the ever-growing industry, offering live chat support brings convenience to your clients. Some would not be comfortable with a phone call when reaching you out. Hence when you say, "Chat with us" on your website, you present them with another way of telling them you are available, and you can hear them out.

No need to worry about live chat support cost. You can just choose a chat service, or combine it with other inbound call center services. We tailor fit our services to your business needs, so expect that our 24/7 live chat service is worth every penny!
Why Hire Our Live Chat Support Agents
Being of service to customers requires the most important traits and abilities that one should have. Here are some of the important skills to build solid client connections and provide exceptional live chat support.
Frequently Asked Questions
What makes a live chat support service company the best?
There are many live chat support service providers online. Each company has its own processes, perks, and fails. Before hiring a live chat support service, check out the company's service processes, service rates, and reviews.
How many chats can an agent handle?
An agent with no prior chat experience can only handle 1-2 active chats at a time, whereas a seasoned agent can easily handle 4-6. If all of your agents are new to chat, you might want to limit the number of simultaneous chats they can handle.
How much does live chat support service cost?
Our live chat support services vary depending on your requirements. You may contact us if you want to learn more about our service pricing, and get a free quote.
Fill in Key Details to Request a Free Quote
Ready to outsource your tasks and grow your business? Send in your details and our team will get back to you as soon as possible to respond to your questions and concerns.